It's never too soon to learn the value of saving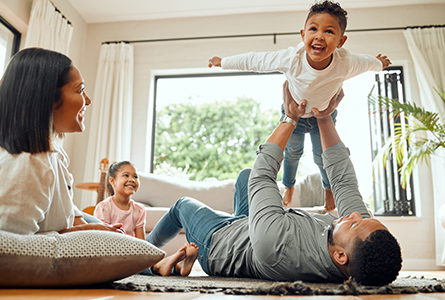 For young savers
Special accounts are designed for newborns to 25-year-olds.
Modest beginnings
Open an Early Advantage Account with as little as $5.
Extra earnings potential
Higher dividend rates are paid on balances up to $10,0001.
An Early Advantage Savings account is a good place for kids to put birthday cash, weekly allowances, or pay from part-time jobs. Plus, it's a great starting point for important discussions about the need to save money for future needs and then to spend it responsibly.
Get started by coming into any branch with a valid birth certificate and Social Security card
Account can be funded only by cash or check
Sikorsky Credit Union has been named the #1 Credit Union in CT for the past four years and offers membership to those living, working, volunteering or worshiping in Fairfield, New Haven & Hartford counties.
Early Advantage Savings $.01 - $10,000
Rates as high as
3.00% APY
Kasasa Cash Checking
Rates as high as
4.00% APY
Money Market $1,000-$9,999.99
Rates as high as
0.50% APY

Join Sikorsky Credit Union today.
¹
APY = Annual Percentage Yield. APYs are effective 11/1/23 and subject to change. Balances from $10,000.01 and over will earn 0.20%. Rates subject to change.
²
To open an Early Advantage Account, the primary account holder must be under 25 years of age. Minors under the age of 13 require a parent or legal guardian as a joint owner on the account. Early Advantage Accounts require a minimum $5 opening deposit. Limit one Early Advantage Account per eligible member. Upon reaching 25 years of age, your Early Advantage Account will be closed and the funds transferred to your regular share savings account, earning rates applicable to such account. Fees could reduce earnings.
Better Rates & Lower Fees
We are CT's #1 credit union for a reason
Access Your Accounts Anytime
Online & mobile banking gives you 24/7 access
Your Security is Our Priority
Committed to safeguarding your personal and financial information
Putting You First, Always
Every member is valued and respected at Sikorsky Credit Union