Keep a keen eye on your financial accounts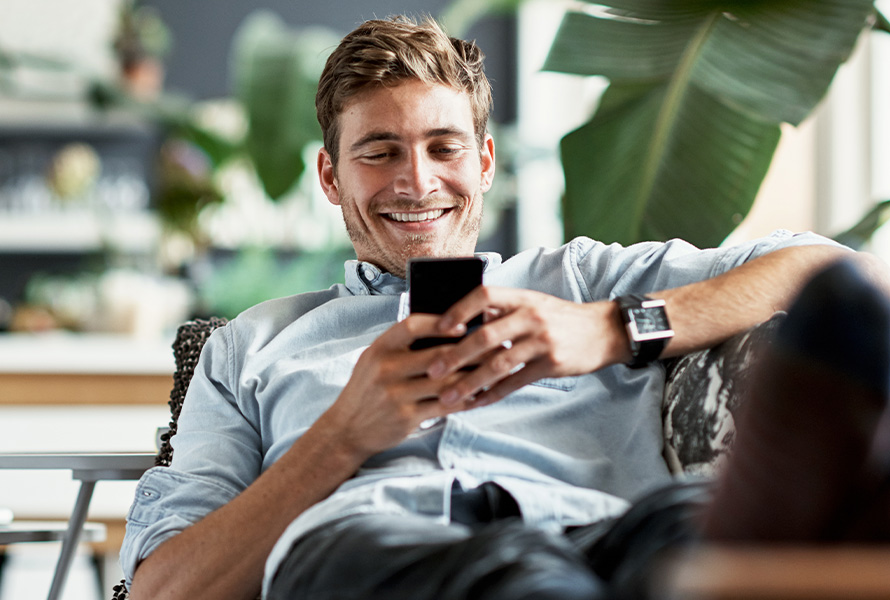 Focused on security
Find out how to protect your finances, identity and all your sensitive information.
Real-world concerns
Whether you're online, at home or at the ATM, you'll know how to spot the threats.
Actionable steps
Put these tips into action to protect yourself or to respond to security breaches.
Battling identity theft and security breaches that can threaten your finances requires a team effort. We provide the insight and tips to follow so you're equipped to protect yourself against various security threats.
New to Zelle? Check out our blog on keeping your account safe.
Carry only necessary information with you. Leave your Social Security card and unused credits cards at home in a safe and secure location.
Do not provide your Social Security number unless absolutely necessary.
Make photocopies of vital information you carry regularly and store them in a secure place. Then, if your purse or wallet is lost or stolen, you have contact information and account numbers readily available.
Never provide personal account or payment information on a telephone call that you did not initiate.
Replace paper invoices, statements and checks with electronic versions, if offered by your employer, financial institution, utility provider or merchant.
Shred receipts, credit offers, credit applications, insurance forms, physician statements, checks, bank statements, expired charge cards, and similar documents when you don't need them any longer.
Review your credit report at least once a year to look for suspicious or unknown transactions. You can get a free credit report once a year from each of the three major credit bureaus, get a copy at any time directly from:
Take outgoing mail to post office collection boxes or the post office. Promptly remove mail that arrives in your mailbox. If you won't be home for several days, request a vacation hold on your mail.
Consider opting out of prescreened offers of credit and insurance by mail. You can opt out for 5 years or permanently. To opt out, call 1-888-567-8688 or go to optoutprescreen.com. The three nationwide credit reporting companies operate the phone number and website. Prescreened offers can provide many benefits. If you opt out, you may miss out on some offers of credit.
Know your billing and statement cycles. Contact the company's customer service department if you stop receiving your regular bill or statement.
For additional resources, check out FTC.GOV/IDTHEFT
You see withdrawals from your bank account that you can't explain.
You do not get your bills or other mail.
Merchants refuse your checks.
Debt collectors call you about debts that aren't yours.
You find unfamiliar accounts or charges on your credit report.
Medical providers bill you for services you didn't use.
Your health plan rejects your legitimate medical claim because the records show you've reached your benefits limit.
A health plan won't cover you because your medical records show a condition you don't have.
The IRS notifies you that more than one tax return was filed in your name, or that you have income from an employer you don't work for.
You get notice that your information was compromised by a data breach at a company where you do business or have an account.
Learn the steps to take if you believe your identity has been stolen, courtesy of the Federal Trade Commission.
Credit card fraud takes place every day in a variety of ways. You can't always prevent it from happening, but you make it tougher for someone to get a hold of your cards and card numbers. Treating your debit and credit cards and account numbers carefully, as if they were cash, is one way to head off potential misuse.
Theft, the most obvious form of debit and credit card fraud, can happen in a variety of ways, from low-tech dumpster diving to high-tech hacking. A thief might go through the trash to find discarded billing statements and then use your account information to buy things. Perhaps a dishonest clerk or waiter takes a photo of your card and uses your account to buy items or create another account. Or maybe you get a call offering a free trip or discounted travel package. But to be eligible you have to join a club and give your account number, to guarantee your place. The next thing you know, charges you didn't make are on your bill, and the trip promoters who called you are nowhere to be found. Incorporating a few practices into your daily routine can help keep your cards and account numbers safe.
Don't lend your card to anyone.
Don't leave your cards, receipts, or statements around your home or office. When you no longer need them, shred them before throwing them away.
Don't give your account number to anyone on the phone unless you've initiated the call to a company you know to be reputable.
Carry your cards separately from your wallet. It can minimize your losses if someone steals your wallet or purse. And carry only the card you need for that outing.
During a transaction, keep your eye on your card. Make sure you get it back before you walk away.
Never sign a blank receipt. Draw a line through any blank spaces above the total.
Save your receipts to compare with your statement.
Open your bills promptly — or check them online often — and reconcile them with the purchases you've made.
Report any questionable charges to the card issuer.
Notify your card issuer if your address changes or if you will be traveling.
Don't write your account number on the outside of an envelope.
Keep a record of your account numbers, their expiration dates and the phone number to report fraud for each company in a secure place.
Enable password protection with automatic lock out.
Never share your password.
Keep the operating system up to date.
Record brand, model and serial number.
Do not modify (or jailbreak) your mobile device, it may disable important security features and may void your warranty.
Use a secure internet connection.
Keep apps up to date.
Only install apps from official sources like the Apple App Store or Google Play.
Consider installing a "Find my Phone" app (varies by operating system, check with your provider).
Install antivirus software; ask your wireless carrier for recommendations.
Be wary of suspicious emails. Never open attachments, click on links, or respond to emails from suspicious or unknown senders.
If you receive a suspicious email that you think is a phishing email, do not respond or provide any information.
If you respond to a phishing email with personal or account information, contact us immediately.
Always observe your surroundings before conducting an ATM transaction.
If an ATM is obstructed from view or poorly lit, go to another ATM.
When possible, take a companion along when using an ATM, especially at night.
When using an enclosed ATM that requires your card to open the door, avoid letting strangers follow you inside.
Minimize time spent at the ATM by having your card ready to use.
Stand between the ATM and anyone waiting to use the terminal so that others cannot see your PIN or transaction amount.
Put your cash, card and receipt away immediately. Count your money later, and always keep your receipt.
Leave the terminal as soon as your transaction is completed.
Cancel your transaction immediately if you see anyone or anything suspicious.
If anyone follows you after making an ATM transaction, go immediately to a crowded, well-lit area and call the police.
Keep your engine running, doors locked and windows up while waiting at a drive-up ATM.
If an ATM is obstructed from view or poorly lit, go to another ATM.
Before rolling down the window to use the ATM, observe the entire area around the ATM.
When possible, leave enough room to maneuver between your car and the one ahead of you in the drive-up line.
Minimize time spent at the ATM by having your card out ready to use.
Leave the terminal as soon as your transaction is completed.
Cancel your transaction immediately if you see anyone or anything suspicious.
If anyone follows you after making an ATM transaction, go immediately to a crowded, well-lit area and call the police.
Treat your card like cash.
Take your ATM receipt with you. Don't leave it at or near the ATM.
Do not give out any information about your ATM card over the telephone.
Check your receipts against your monthly statement to guard against ATM fraud.
Report a lost or stolen ATM card immediately by calling 203-377-2252 or 1-888-753-5553 during normal business hours, or 1-800-991-4961 (for credit cards) or 1-800-754-4128 (for debit cards) after business hours.
Don't leave your card in your car's glove compartment.
Don't lend your cards—credit, debit, or ATM—to anyone. You are responsible for their use. Don't let your cards be used by others, even family and friends.
Choose a PIN that is easy for you to remember but difficult for others to guess. Don't use any numbers or words that appear in your wallet, for example, your name, telephone number, date of birth, or any simple combination of these.
Keep your cards away from magnets; these can erase the information stored on your card.
Sikorsky Credit Union will never send you an unsolicited request for your debit, ATM, or credit card PIN or your online banking login ID or password. We will not call you, send you emails, mail you letters or use online pop-ups or other methods to request this information. If you receive an unsolicited request from Sikorsky Credit Union, even if the request appears to be legitimate, do not provide any confidential information, such as Social Security Number; birth date; account numbers; credit or debit card account numbers, expiration dates or CVV codes (three-digit security code located on the back of your card); Online Banking login IDs, passwords, or debit card or Call-24 PINS.
Phishing occurs when internet fraudsters impersonate a business to trick you into giving out your personal information. Don't reply to email, text, or pop-up messages that ask for your personal or financial information. Don't click on links within them either, even if the message seems to be from an organization you trust. It isn't. Legitimate businesses don't ask you to send sensitive information through insecure channels.
Learn more about Phishing and how to protect yourself, from the Federal Trade Commission.
If you answer the phone and hear a recorded message instead of a live person, it's a robocall. You've probably received robocalls about candidates running for office, or charities asking for donations. These robocalls are allowed. But if the recording is a sales message and you haven't given your written permission to get calls from the company, the call is illegal. In addition to the phone calls being illegal, their pitch most likely is a scam.
If you get a robocall, hang up the phone. Don't press 1 to speak to a live operator and don't press any other number to get your number off the list. If you respond by pressing any number, it will probably just lead to more robocalls.
Learn more about Robocalls and how to protect yourself, from the Federal Trade Commission.
Card skimming is when someone illegally copies your account details from the magnetic strip on your credit or debit card when you use an ATM or point of sale terminal at a merchant. The fraudster then uses your details to create a fake or 'cloned' card.
For ATM skimming, a fraudster attaches a skimming device over the card entry slot to capture your card details and camera above the keypad or to the side of the keypad to capture your PIN.
For POS skimming the thief captures your card details and PIN by attaching a skimming device over the card entry slot or replacing the original POS device with a device that looks and works like a normal POS terminal. The most common place these devices can be found is self-service gas pumps.
Follow these steps to protect your card:
Does the ATM or POS terminal look like it normally does – can you see any unusual additions, marks or changes?
Are there any signs that someone has tampered with the ATM or POS terminal - can you see any glue residue, exposed wires, pieces of double-sided tape?
Do you notice something suspicious about the card slot on (e.g. an attached device)?
If so, do not proceed with your transaction.
Sikorsky Credit Union has been named the #1 Credit Union in CT for the past four years and offers membership to those living, working, volunteering or worshiping in Fairfield, New Haven & Hartford counties.
Join Sikorsky Credit Union today.
Better Rates & Lower Fees
We are CT's #1 credit union for a reason
Access Your Accounts Anytime
Online & mobile banking gives you 24/7 access
Your Security is Our Priority
Committed to safeguarding your personal and financial information
Putting You First, Always
Every member is valued and respected at Sikorsky Credit Union