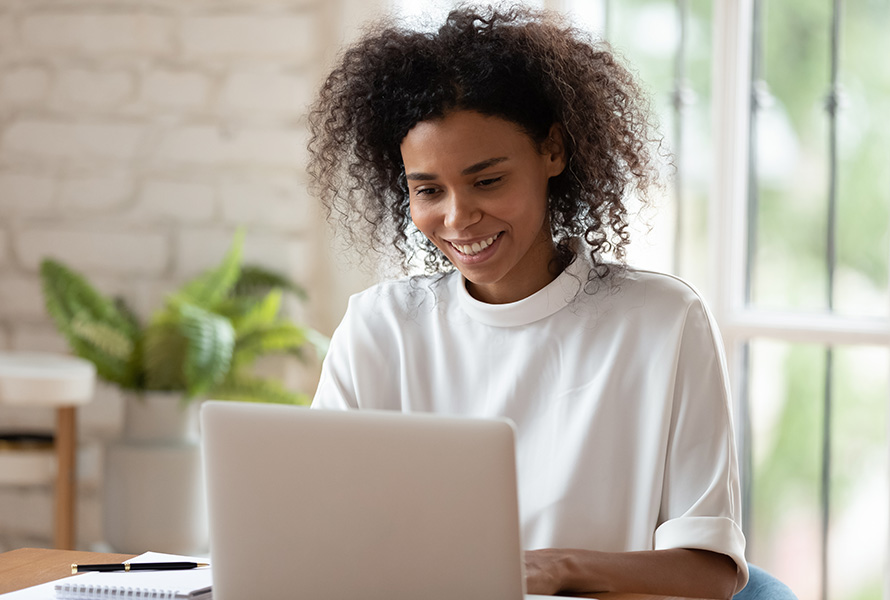 Here's how we collect, store and disclose personal information
Online Privacy Notice
Effective Date: October 2022

Sikorsky Financial Credit Union's ( Sikorsky Credit Union ) Online Privacy Notice (Notice) applies to online interface (i.e., website or mobile application) and any online interface that links to this Notice, (each, a Site, and, collectively, Sites). The term Sikorsky Credit Union or "we" or "us" or "our" in this Notice refers to Sikorsky Credit Union, or it's vendors that link to this Notice. The security over a vendor site may vary based upon that vendor's security policies and practices. If you visit or access your accounts from one of these sites, please review the online privacy practices of that site to understand how your online information may be collected, used and shared. This Notice describes how Sites may collect, use and share information from or about you, and explains how information may be collected and used for advertising purposes. We will use and share any information that we collect from or about you in accordance with the Sikorsky Credit Union Privacy Notice which provides choices in the use and sharing of information.
Personal Information We Collect Online
Personal Information means personally identifiable information such as information you provide via forms, surveys, applications or other online fields including name, postal or email addresses, telephone, fax or mobile numbers, or account numbers.
How We Use Personal Information
We may use Personal Information:
To respond to your inquiries and fulfill your requests;
To inform you about important information regarding the site, products or services for which you apply or may be interested in applying for, or in which you are already enrolled, changes to terms, conditions, and policies and/or other administrative information;
To deliver marketing communications that we believe may be of interest to you, including, ads or offers tailored to you;
To personalize your experience on the site;
To allow you to apply for products or services (e.g., to apply for a mortgage, a credit card, or other financial product) and evaluate your eligibility for such products or services;
To verify your identity and/or location in order to allow access to your accounts, conduct online transactions and to maintain measures aimed at preventing fraud and protecting the security of account and personal information;
To allow you to participate in surveys and other forms of market research, sweepstakes, contests and similar promotions and to administer these activities. Some of these activities have additional rules, which may contain additional information about how personal information is used and shared.
We may combine this online information with information collected from offline sources or information we already have for risk control, for fraud detection and prevention, to comply with laws and regulations, and to comply with other legal process and law enforcement requirements.
How Personal Information is Shared
Please see the Sikorsky Credit Union Privacy Notice for information on how Personal Information may be shared and how you may be able to limit certain types of sharing.
How We Collect and Use Other Information
We and our third-party service providers may collect and use other information in a variety of ways, including:
Through your browser or device: Certain information is collected by most browsers and/or through your device, such as your Media Access Control (MAC) address, device type, screen resolution, operating system version and internet browser type and version. We use this information to ensure Sites function properly, for fraud detection and prevention, and security purposes.
As a way of authenticating a user using our mobile app in the following ways:
| User Data | Why does the app need this data? | How does the app use it? |
| --- | --- | --- |
| Username | To save the user from entering his/her username each time during login if user has enabled the 'remember me' feature. | The app will encrypt the username and store it on the user's mobile device. |
| Password | To authenticate the user who logs into the app. | The app requires the user to type in the password during login. The app does not store the password anywhere in the app or on device. |
| Phone Number | The app uses the user's phone number on the profile to send a text message or call during multi-factor authentication (MFA) to verify the user's identity. | The phone number is collected during the user registration process. It is stored in the backend database, NOT in the app or on the device. |
| Fingerprint | To authenticate the user to log into the app, if user has enabled the fingerprint login feature. | The app will access the user's fingerprints that are already stored on the device. The app does not store the fingerprint inside of the app. |
Specific feature functionality within our mobile banking apps will require access to user data such as user's Contacts list on the phone or user's current location. Currently, the app requires access to the following user data:
| User Data | Why does the app need this data? | How does the app use it? |
| --- | --- | --- |
| Contacts | To save the user from entering the contact information of another person to whom the user wants to transfer funds, if user uses the Popmoney feature. | The app will ask user to grant permission before accessing the user's Contacts stored on the device. The app does not store the Contacts inside of the app. |
| Current Location | To save the user from entering the current location information when using the Locator Search feature. | The app will ask user to grant permission before accessing the device's location service to retrieve user's current location. Location Data is collected to provide location-based messages, offers, and interactions. Sikorsky Credit Union's mobile app collects location data to enable push notifications even when the app is closed or not in use. It also is used to support promotional offers from Sikorsky Credit Union. If you use any location-based feature of Sikorsky Credit Union's mobile app, you agree that your geographic location and other personal information may be accessed and disclosed through Sikorsky Credit Union. If you wish to revoke access to such information, you must cease using location-based features of Sikorsky Credit Union's mobile app via your device's settings. |
We share Contacts information with the third party vendor that supports the Popmoney feature. We share user's current location information with the third party vendor that supports the Locator Search feature. We do not share any other user data with third party applications.
Using cookies: Cookies are pieces of information stored directly on the device you are using. Cookies we use do not contain or capture unencrypted Personal Information. Cookies allow us to collect information such as browser type, time spent on the Site, pages visited, language preferences, and your relationship with us. We use the information for security purposes, to facilitate navigation, to display information more effectively, to personalize/tailor your experience while engaging with us, and to recognize your device to allow your use of our online products and services. We collect statistical information about the usage of the Site in order to continually improve the design and functionality, to monitor responses to our advertisements and content, to understand how account holders and visitors use the Site and to assist us with resolving questions regarding the Site. We also utilize cookies for advertising purposes.
Please see the Advertising section below for more information.
You can refuse to accept these cookies and most devices and browsers offer their own privacy settings for cookies. You will need to manage your cookie settings for each device and browser you use. However, if you do not accept these cookies, you may experience some inconvenience in your use of the Site and some online products and services. For example, we will not be able to recognize your device and you will need to verify your identity each time you log on. You also may not receive tailored advertising or other offers from us that may be relevant to your interests and needs.
Disclosure of Account Information to Third Parties
We will not disclose any information to third parties about your account or the transfers you make except:
To follow your instructions as you authorize, to conduct our operations, or to protect the security of our financial records;
To verify the existence of your account for a third party, such as a merchant or credit bureau;
To comply with a statute, regulation, or rule, or to comply with a subpoena, search warrant or other proper government agency or court order, such as tax information, regulatory examination and reports of unusual cash transactions;
When Sikorsky Credit Union concludes that disclosure is necessary to protect you, your account or the interest of Sikorsky Credit Union;
In connection with examinations by financial institution authorities, or our authorized auditors;
If you give us your written permission; and
For any other reason set forth in our Electronic Funds Transfer Agreement.
We do not disclose information unless required or permitted by state and federal privacy laws. See Sikorsky Credit Union's Privacy Notice for a more complete explanation of how we protect our members' informational privacy. Sikorsky Credit Union's Privacy Notice is located in the Disclosures section of the Website.
Linking to other sites
We may provide links to third party sites, such as credit bureaus, service providers or merchants. If you follow links to sites not affiliated or controlled by Sikorsky Credit Union, you should review their privacy and security policies and other terms and conditions, as they may be different from those of our Sites. Sikorsky Credit Union does not guarantee and is not responsible for the privacy or security of these sites, including the accuracy, completeness, or reliability of their information.

Third party widgets – we may allow certain widgets (e.g., social share buttons) on our Sites that enable users to easily share information on another platform, such as a social media platform. The third parties that own these widgets may have access to information about your browsing on pages of our Sites where these widgets are placed. You may wish to review information at the third party site, such as social media platforms where you have an account, to determine how these third parties collect and treat such information.
Advertising
In order to understand how advertising performs, we may collect certain information on our Sites and mobile apps through our advertising service providers using cookies, IP addresses, and other technologies. The collected information may include the number of page visits, pages viewed on our Sites, search engine referrals, browsing activities over time and across other sites following your visit to one of our Sites or apps, and responses to advertisements and promotions on the Sites and apps where we advertise.
Sikorsky Credit Union uses information described in this Notice to help advertise our products and services, including prescreened offers of credit, in a variety of ways. We use such information to:
Present tailored ads, to you including:

Banner ads or Search marketing related ads
E-mail, postal mail and on other sites not affiliated with Sikorsky Credit Union;

Analyze the effectiveness of our ads; and
Determine whether you might be interested in new products or services
Social Media Sites
Sikorsky Credit Union provides experiences on social media platforms including, but not limited to, Facebook®, Twitter®, YouTube® and LinkedIn® that enable online sharing and collaboration among users who have registered to use them. Any content you post on official Sikorsky Credit Union managed social media pages, such as pictures, information, opinions, or any Personal Information that you make available to other participants on these social platforms, is subject to the Terms of Use and Privacy Policies of those respective platforms. Please refer to them to better understand your rights and obligations with regard to such content. In addition, please note that when visiting any official Sikorsky Credit Union social media pages we reserve the right to remove postings that are any of the following:
Abusive, defamatory, or obscene
Fraudulent, deceptive or misleading
In violation of any law or regulation
Otherwise inappropriate
Updates to this Online Privacy Notice
This Sikorsky Credit Union Online Privacy Notice is subject to change. Please review it periodically. If we make changes to the Online Privacy Notice, we will revise the "Effective" date at the top of this Notice. Any changes to this Notice will become effective when we post the revised Notice on the Site. Your use of the Site following these changes means that you accept the revised Notice.
Sikorsky Credit Union has been named the #1 Credit Union in CT for the past three years and offers membership to those living or working in Fairfield, New Haven & Hartford counties.