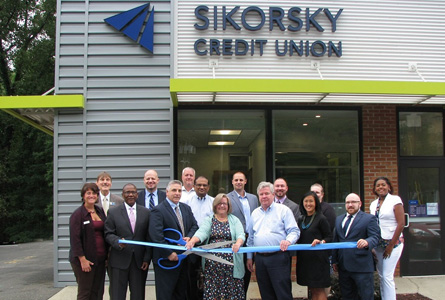 When we first opened in 1948, Sikorsky Credit Union had seven members and $35 in assets. Today, we're one of Connecticut's largest credit unions with nine branches, 62,000-plus members, and over $1.1 billion in assets.
Wow, do things change.
What's never changed is our humble approach to business - putting your needs first and ensuring you have the tools and resources to make life better for your family.
Our volunteer Board of Directors expertly guides our not-for-profit credit union into the future as we continue our mission to provide exceptional service and funnel profits back to members.
We're fortunate that our charter empowers us to improve the finances of so many people. The only requirement for membership is that you live, work, worship, or volunteer in Fairfield, New Haven or Hartford counties in Connecticut.
Plus, we're insured by the National Credit Union Administration, an agency of the U.S. government. That means deposits up to $250,000 in any account are fully protected.
Trustworthiness, security and peace of mind – that's a valuable combination when you're looking for a full-service financial institution.
Sikorsky Credit Union has been named the #1 Credit Union in CT for the past four years and offers membership to those living, working, volunteering or worshiping in Fairfield, New Haven & Hartford counties.
Join Sikorsky Credit Union today.
Better Rates & Lower Fees
We are CT's #1 credit union for a reason
Access Your Accounts Anytime
Online & mobile banking gives you 24/7 access
Your Security is Our Priority
Committed to safeguarding your personal and financial information
Putting You First, Always
Every member is valued and respected at Sikorsky Credit Union